---
Down to Earth:
Indigenous Artist
Patrick Hunter

Brings Community to Corporate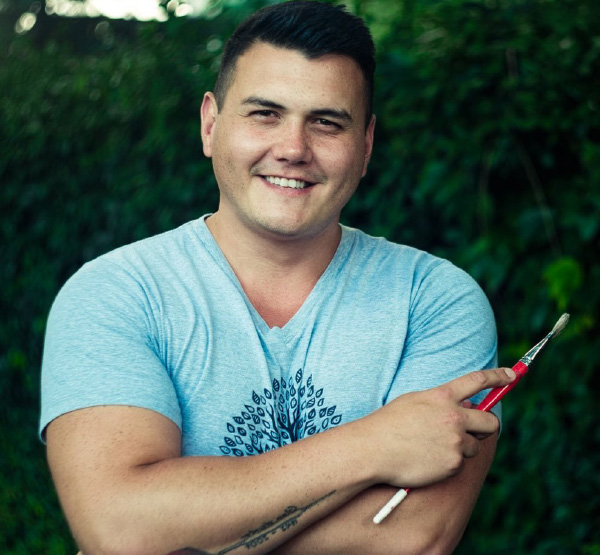 Patrick Hunter
Patrick Hunter is a 2 Spirit Ojibway artist known for his vibrant Woodland art style paintings and creations. Indigenous culture and iconography is present in everything he makes, from murals, paintings, and exhibits for corporate clients including Rogers and RBC to handmade wood-burning pieces and prints he sells to clients across the country. "My artwork is a representation of the spirit of nature," he says. "Everything is alive—everything deserves respect—and to make a painting or design of it is that respect."
Patrick started his own business, Patrick Hunter Art & Design, to grow what was once a simple model: commissions for friends on flexible payment plans. Now, he is an active member of the Canadian Gay and Lesbian Chamber of Commerce (CGLCC) and a highly sought-after creator with two main areas of focus: corporate partnerships and direct-to-consumer art and design.
The inspiration for a lot of his work comes from the landscape around his hometown of Red Lake, Ontario, which is located 2,000 kilometres northwest of Toronto (nearly at the border to Manitoba). "There's a creative spirit that lives up there that makes you rush home during a hike to paint the things you just saw," describes Patrick. "When I'm out there it's like my life in the city isn't reality—being out in nature is."

In some ways, I can't believe this is my life. I'm grateful for bigger corporations and businesses that engage with
diverse vendors
.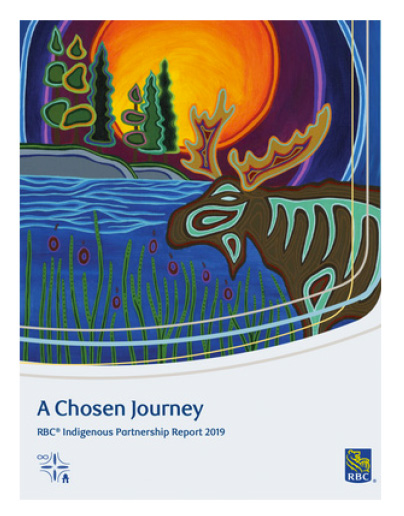 When he first started thinking about what kinds of products he might sell to his customers, he was pretty set on a couple of things: mugs and t-shirts. Working with Staples "really expanded" his point of view, he says: "I would not even have thought of putting my artwork onto notebooks or tote bags. [And], from a business point of view, I don't have the capital to make samples and test to see what looks good on what product." With the backing of a large company, he can focus on quality and design, and what he thinks is really important: "Let's put stuff onto products that people really want to take away."
The partnership has also allowed Staples the opportunity to support a diverse, minority-owned vendor and present a meaningful, one-of-a-kind product line to its clients. It's an ideal situation, Patrick says, one in which "everyone wins" in the end. "Whatever the minority [Staples is] working with—whether it be women-owned, Indigenous, LGBTQ+, or newcomer businesses—they're providing an opportunity for the Canadian dream to really happen," he says. "There's no better feeling than being aligned with a larger business that supports you and takes you seriously."
What's next for Patrick? He's focusing on expanding his online store and offering a wider range of made in Canada products, including a partnership with a local pottery company. He was recently commission to create an original work of art for Ernst & Young's Toronto office. And, he'd like to put on a themed gallery show. It's a lot to do, but, as Patrick says: "Some days I'm like—I get to draw pictures all day? You have to draw pictures all day? You have to pinch yourself sometimes. This is great."

Interested in learning more about creating fully customized merchandise solutions?
Get Started